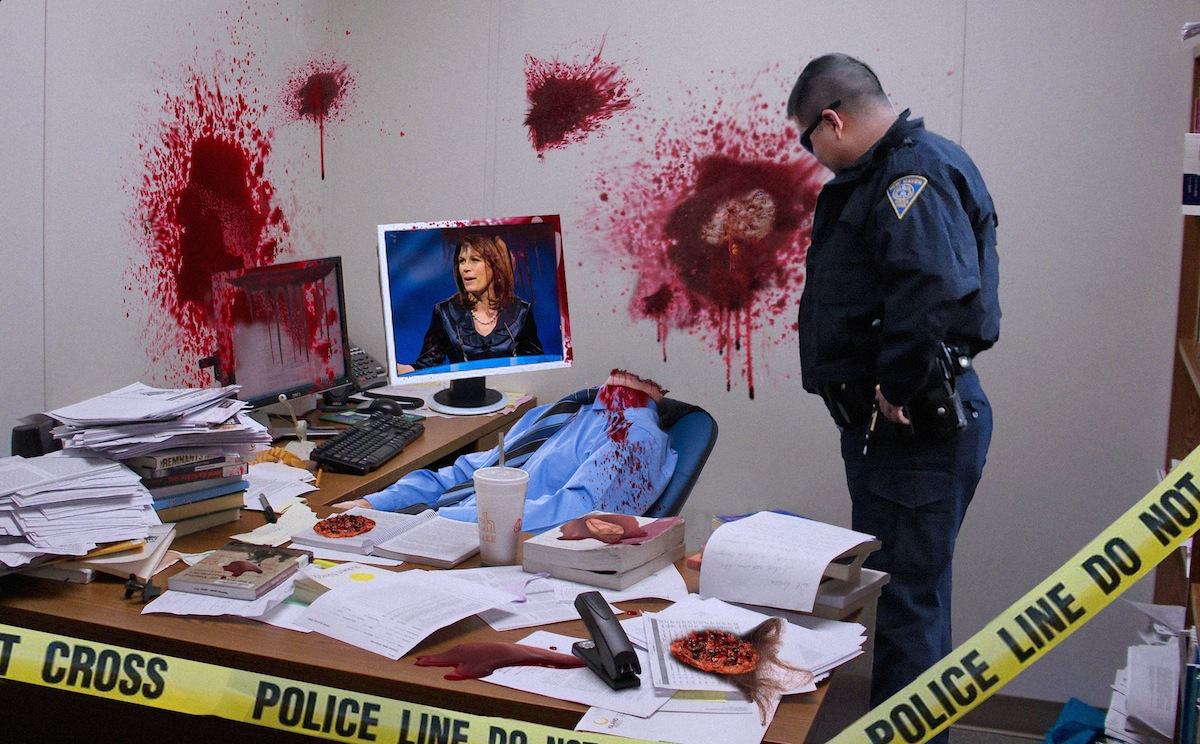 (TAMPA BAY, FL)  At a press conference held today, the attorney for the family of PolitiFact reporter Joshua Coleman formally announced that the family has decided to pursue an action for wrongful death against Minnesota Congresswoman Michele Bachmann.  As has been widely reported, Mr. Coleman's head exploded last Saturday afternoon while the reporter attempted to take notes on Bachmann's address at the 2013 CPAC Conference.
"The sad fact is that Mr. Coleman thought he was prepared," stated attorney Irwin Fitzpatrick, "He had trained for weeks since drawing the CPAC assignment and believed strongly that he was at the top of his fact checking game.  But what I will prove in a court of law is that no one — and I mean no one — could be prepared for the onslaught unleashed by Michele Bachmann in recent weeks.  And certainly not the tidal wave she let loose on the stage last Saturday afternoon."
With that preamble, Fitzpatrick yielded the stage to Coleman's coworker Jessica Ramos who witnessed the actual event.  "It was just horrible," the clearly shaken young reporter stated from the podium,  "It happened fast but not all at once.  I could tell trouble was developing when I looked over from my desk and saw how fast Josh was taking notes; it was almost unnatural. I looked up and saw Bachmann was on his screen but couldn't hear what she was saying because Josh was wearing headphones.  And Josh … he just kept writing faster and faster and faster.  And then, his pencil … it just snapped in half, and his head started to shake and then: boom!  It was so horrible."
Both Coleman's gore-covered notes and a timeline reconstruction of events indicate that the fact-checker's head exploded just as Bachmann suggested that government regulation had prevented finding a cure for Alzheimer's Disease and just after she lambasted the President's lavish lifestyle — noting that he had "five chefs on Air Force One" and a personal dog walker available 24 hours a day.
"It was just an unrelenting bombardment, and he couldn't take it," Tampa Bay Times Editor Bill Adair told reporters with a tear in his eye.  "Perhaps I am partially to blame.  I know there could have been more safety measures in place, and I promise there WILL be from here on in, whenever Representative Bachmann speaks."
Indeed, both PolitiFact and the Washington Post's "Fact Checker" unit have reacted to the tragedy by requiring that only teams of at least two fact checkers with CPR and First Aid training report on any event at which Representative Bachmann is present.  If Mrs. Bachmann is actually scheduled to speak, teams of three are mandated.
"Some think the three reporter requirement is an excessive reaction," stated Washington Post executive editor Marcus W. Brauchli when reached for comment, "but those people weren't on the House Floor on Thursday when Representative Bachmann announced that ObamaCare is literally killing vulnerable children and the elderly.  I'm the one who has to take responsibility for these young reporters' lives.  And I say: three person teams for the time being."
While applauding safety measures like those instituted by Mr. Brauchil, the Coleman family attorney took matters a step farther, "As far as I'm concerned, if the events of the last week have proven anything, it is that everyone would be well advised never to listen to Michele Bachmann ever again."
Citizen Schwartz's three reporter team was unable to reach Representative Bachmann for comment at the time of this article's publication.