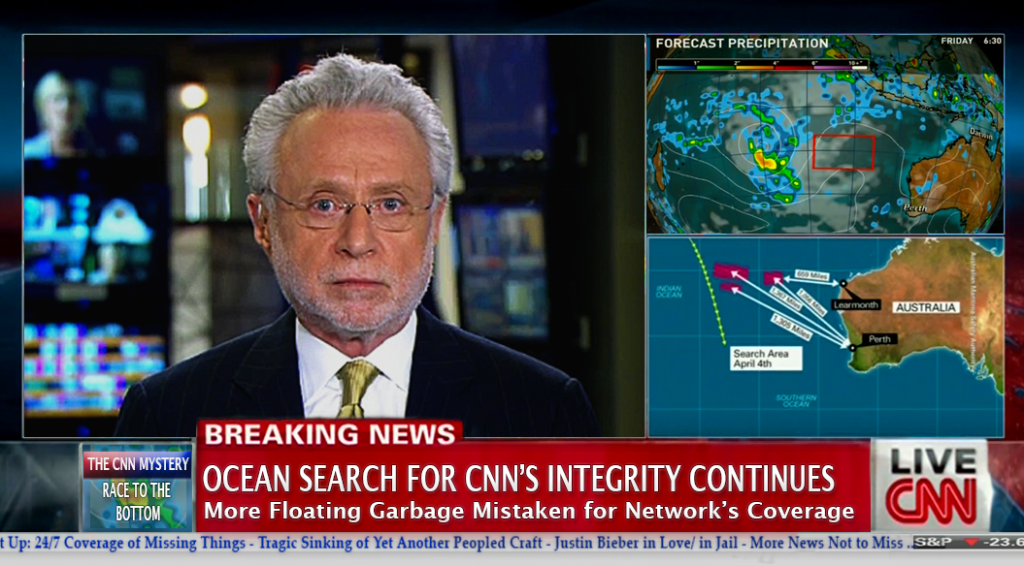 (Sydney, Australia) — The joint Malaysian-Australian commission charged with searching the bottom of the Indian Ocean for remnants of CNN's once-touted journalistic integrity will soon end its hunt in "abject failure and utter frustration" according to unnamed sources within the agency.
Over the past several months, CNN anchors and pundits have watched on with bated breath as the commission's underwater sonar device "Bluefin-21" has scoured nearly 95% of the ocean floor.
The search has had its ups-and-downs. "We've thought several times that we had leads on this — that someone might have spotted something that looked like real reporting" stated CNN's Wolf Blitzer speaking from a 3D rendering of an undersea coral reef, "but each time, it's turned out that agency spotters were simply looking at floating garbage that happened to closely resemble CNN coverage. It's been very disappointing."
Indeed, despite high hopes, the network's 24 hour coverage of the hunt has demonstrated not a single trace of anything resembling journalistic standards or the remnants thereof, according to officials with knowledge of the matter.
Still, some agency insiders remain impressed with CNN's tenacity. "CNN has really followed us down to rock bottom on this one," stated Australian official Ryan Nguyen. "There's no lower the network could go in reporting this story. It's kind of impressive really."