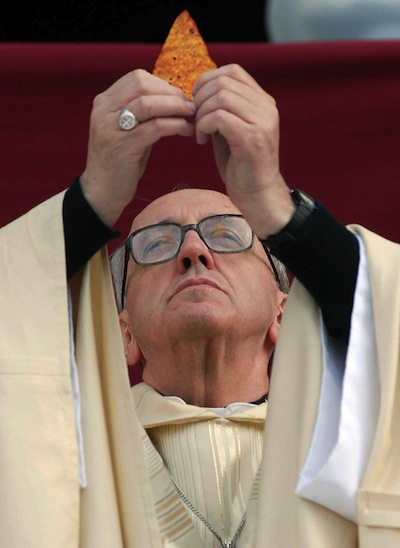 VATICAN CITY – The Vatican today announced a bold first step in its new plan to make the institutional Church more appealing to modern, Western Catholics — particularly those living in the United States.  That step comes in both Nacho Cheese and Cool Ranch flavors.
"We're very excited to announce today that the Vatican has entered a partnership with the good people at Frito Lay in order to bring the world a more desirable and yet wholly Vatican-endorsed Eucharist" stated newly minted Pope Francis the First.  "Many of us in the Church have long understood that our institutions must adapt to service the changing cultural needs of modern, Western populations, and we can think of no better starting place for change nor better time to capitalize on the success of the Doritos brand."
Indeed, the Dorito chip does seem to be on a bit of a roll as of late as Taco Bell just announced that its "Doritos Taco Loco" (a taco served inside a shell made of a giant Dorito chip) has become one of the biggest success stories in fast food history.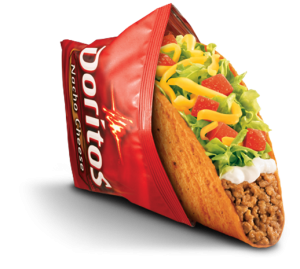 "When we learned that Taco Bell sold 1 million Doritos Tacos Locos per day in 2012 — and that the company had to take on 15,000 extra employees just to deal with the popularity of the thing — well we just knew that we had our hook for reeling in those wayward Western Catholics," stated a Cardinal close to the mater.  "This thing has 'hit' written all over.  I haven't been so excited since the end of that fish on Friday nonsense with Vatican II."
Asked whether or not his South American roots had anything to do with this announcement, Pope Francis responded, "You're pulling this Popes robes right?   Okay, genius.  First off, I'm of Italian extraction, and secondly, if you think Doritos are from South America, you must be the dumbest person I've ever met.  Idiot racist … Next question! "
The Citizen regrets having asked.