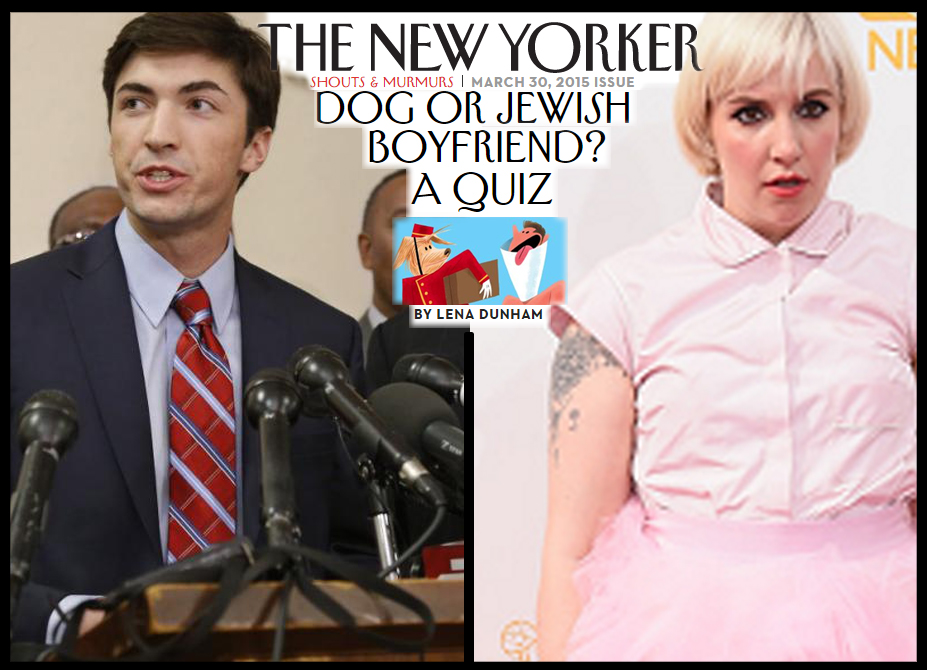 (Oklahoma/New York City) Ousted Oklahoma fraternity brother Levi Pettit claimed he was "deeply sorry" for leading a racist chant that got him booted out of school on Thursday morning before turning to another issue – the latest issue, in fact, of The New Yorker magazine.
Flanked by hordes of black people whom he asked to stand behind him, the allegedly contrite Pettit finished his abject and lengthy remarks and then surprised the audience by changing the subject.  "By the way," the  well-groomed young man added, ""if you haven't read the most recent piece of humor by Girl's scribe Lena Dunham, you're really missing out.  She's dead on in comparing her cheap, grasping, nasty Jew boyfriend to her filthy dog.  Good job, Lena.  I don't like a lot of your stuff but that shit is funny."
Dunham for her part was so grateful for the praise that she was moved to speak to reporters about the subject on a conference call from her New York home just minutes after Petit's public apology and surprising approbation of her recent work.  It should be noted that several sources close to Dunham were quick to indicate that the young writer is always grateful for any praise from anyone and is always moved to talk to reporters.
"Look," Dunham told the journalists, "we're all disgusted by what that frat boy said in his chant, but that doesn't mean I am not grateful for his appreciation of my article asking readers to guess if various loathsome traits belong to 'my dog or my Jewish boyfriend.'"
"I think we've crossed a big divide here over a  really fun quiz I wrote.  I feel very privileged to have made the connection."
Sources close to Ms. Dunham do, in fact, confirm that she is extremely privileged.