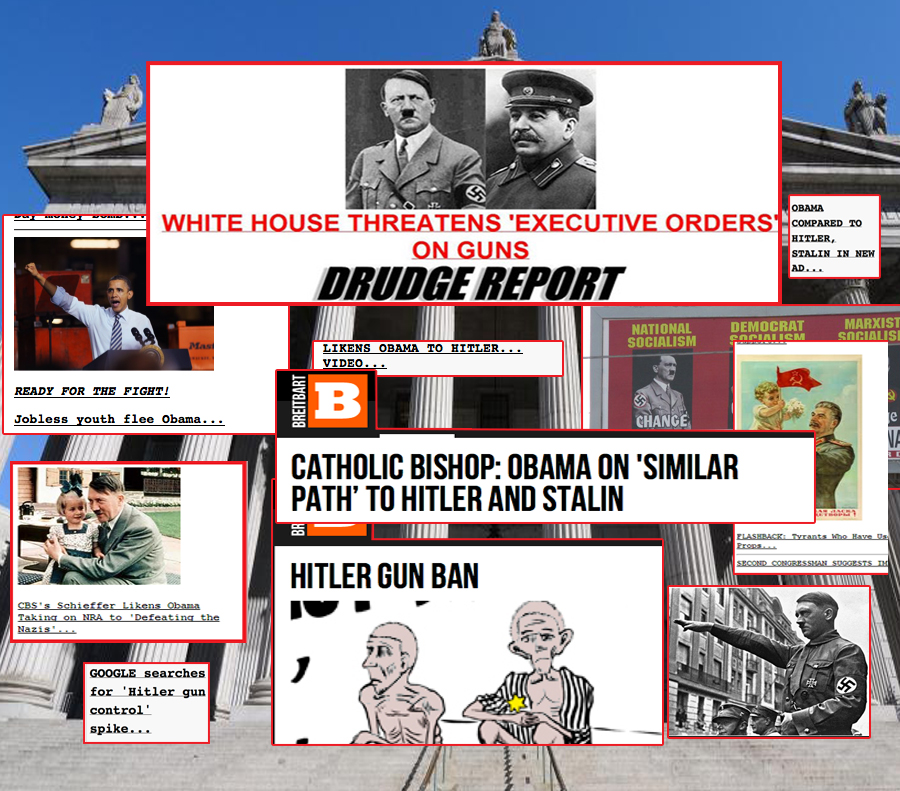 CASE BROUGHT BY ESTATE OF JOSEPH STALIN STILL PENDING
 (MIAMI, FL) A Federal Court sitting in the Southern District of Florida today ordered Matt Drudge, The Drudge Report and the Breitbart News Group to pay the estate of Adolf Hitler $57 million in back royalties and unpaid licensing fees for the "pervasive and near constant" use of the infamous dictator's likeness and name in the years since the election President Barack Obama.
Reached for comment about the case, famed First Amendment attorney Lawrence Lessig was clearly impressed with the decision.  "I think it's a first-rate, sharply focused piece of legal reasoning.  I'm most impressed with the care Judge Turkington has shown in limiting his ruling to the rather unique, outlandish and almost comical obsession with Hitler displayed by Breitbart and Drudge since the election of Barack Hussein Obama.  The publishing community can rest easy: I just don't see this ruling applying in very many situations."
Indeed, the plain language of the decision seems to support Lessig's narrow interpretation.
"This case must be distinguished from the run of the mill use of publicly available images and tropes," wrote District Judge Edward Turkington, "Here, the near constant utilization of Hitler imagery, poses and verbiage simply allowed room for no other editorial content whatsoever for days at a time.  It is the failure of the defendants to provide any content at all other than the reference to the plaintiff's personality (a personality to which they do not own the rights) which makes this case unique."
"Thus, it is the determination of this court that Adolf Hitler — as the author of his own life story — must be considered the 'Constructive Author' of this material and his estate must be made whole by the payment of reasonable royalties."
While some observers have noted that Judge Turkington's "Constructive Author" theory is novel (and, thus, untested), most legal commentators agree that the reasoning is sound, and further suggest the case will certainly survive appellate review on independent grounds even if a higher court were to disapprove of the concept.
"Judge Turkington is brilliant and not new to the game," stated First Amendment Scholar Tom Lukianoff of Columbia University, "his theory is novel and important, but his decision is also careful and unassailable.  In short, he makes clear that more traditional intellectual property theories involving 'publicity,' 'confusion in the market-place' and 'appropriation'  apply here as well."
"Simply put, the use of Hitler on these sites since Obama took office is so patent, pervasive and conspicuous that one could easily come to the conclusion that the Fascist dictator had officially endorsed the websites and had a role in shaping their message.  You just can't argue with that."