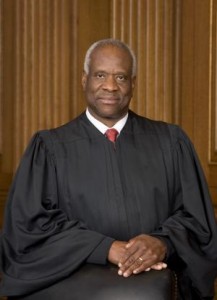 (WASHINGTON, DC) – A narrowly divided Supreme Court today broke with four decades of prior case law and held that corporations and institutions may not take racial diversity into account in any way whatsoever when weighing admission or hiring decisions. The holding had immediate and sweeping implications for universities, business and governmental organizations throughout the country — not the least of which was the summary self-dismissal of Justice Clarence Thomas, the author of the court's majority opinion.
"It really is unprecedented," said Supreme Court observer Forval Harrington, "I've seen unwavering intellectual consistency before, but this is the first time I can think of that a Justice actually fired himself in the text of a decision."
Indeed, Justice Thomas' majority opinion was entirely unflinching on the topic of his own removal from the court.  "Facts are facts: at the time of my nomination I had only a modicum of judicial experience, an anemic record in terms of academic achievement, and had published nothing of note.  Further, the American Bar Association gave me the lowest qualification rating ever issued to a nominee to this august body even after being strong armed by the President of the United States."
"I might have turned out to be a fine jurist, but that simply is not relevant. I should never have been hired, and now I have got to go."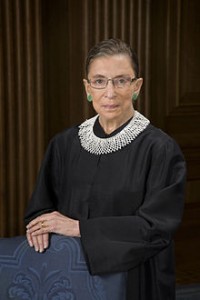 Writing in dissent, Justice Ruth Bader Ginsburg vehemently disagreed: "Sometimes intellectual consistency can be taken too far. Who cares if race was clearly a factor in the initial decision to nominate Justice Thomas as well in a Democratic Senate's skittishness in opposing his confirmation?  That's old news.  In the years following  Justice Thomas's appointment, he has proven himself to be an exceptional judicial mind and a leading light of the conservative movement.  He is also a Black man who has added much needed perspective to this court.  It is beyond absurd that our nation should lose his unique and valuable contributions over a reconsideration of the circumstances of his hiring.  This is a sad day for America.  It is a sad day for this court.  And it is a sad day for me."
In spite of Justice Ginsburg's passionate defense of her colleague, a four Justice majority — composed of Justices Alito, Thomas, Scalia, and Kennedy — carried the day on the issue of Justice Thomas's dismissal.  Justice Kagan did not participate in the case, having recused herself due to prior involvement in the matter during her time as solicitor general.
For his part, Chief Justice John Roberts rejected the reasoning of both Ginsburg and Thomas, choosing to write two separate opinions in both concurrence and dissent.  "I fervently believe this case could have been disposed of with a clever reference to Congress's Article 1 powers,"  wrote the Chief Justice in one of his two unusual opinions, "For the sake of the ongoing institutional reputation of the court, I deeply regret we have unnecessarily injected the controversial issue of race into the complex issue of affirmative action."
In the end, however, it was Justice Thomas's own vote that proved dispositive, and if Justice Ginsburg's emotional entreaty in dissent moved him in any way, it was not betrayed in his writing:  "The dissent's position is simply untenable.  By ruling for the plaintiff-appellant today (and thus overruling both Bakke and Grutter), this court holds that race cannot be considered in even the most minor way in selecting potential candidates.  It may not be one factor among many.  It may not be a tie-breaker.  It may not be contemplated or noted in any way.  What kind of a hypocrite would I be to issue such an opinion without taking my own appointment into consideration?  A pretty darn big one, in the opinion of this court.  A pretty darn big one."