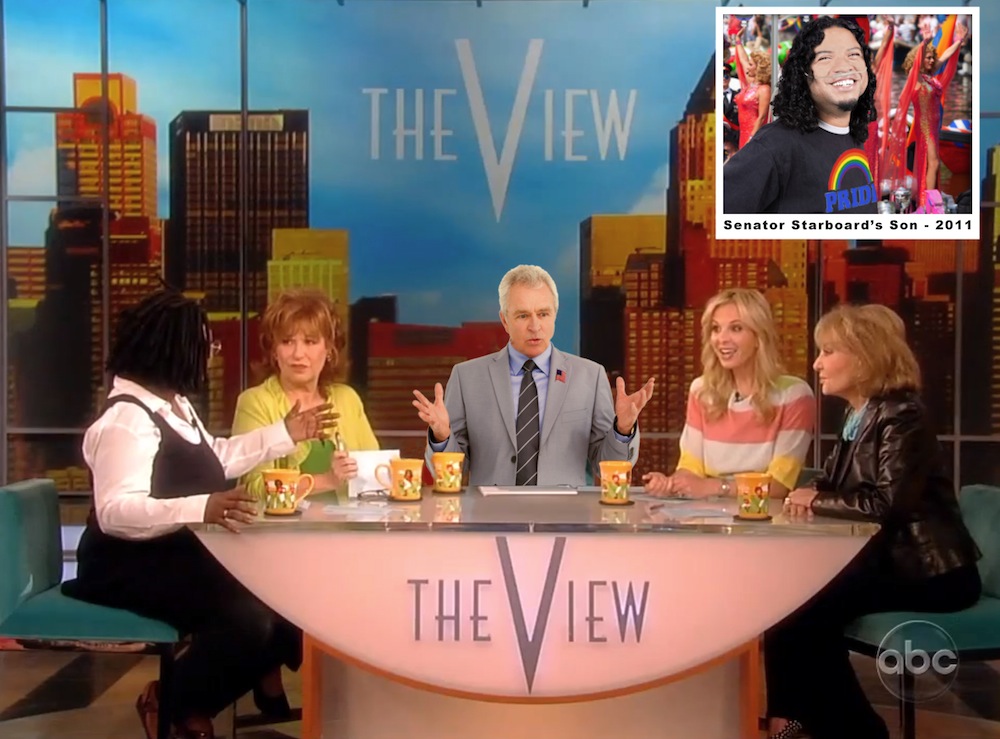 Senator Richard Starboard (R – Montana) announced a sudden u-turn on issues relating to health care, immigration, the social safety net, gay rights and gun control today after discovering the existence and tragic death of his son Tyrell Javier Fernando Starboard-Lee.  "I had no idea I had a son whose life and death so challenged my hard-hearted, doctrinaire views on so many issues," Senator Starboard told the women of the ABC show The View Thursday morning. "Had I known I was actually related to someone who was affected by my unfeeling, judgmental and unyielding world view, I would never have developed it in the first place."
During his 30 minute interview on the daytime talk program, the Senator indicated that he was shocked to learn that his first wife was multiracial, in the United States illegally, and had given birth to his son 9 months after their divorce.  "I had no idea I had an immigrant, multiracial son teaching school in Florida; had I known that I would have really rethought so many things, including my position on teachers unions, by the way."
Friends report that Tyrell Javier suffered a long battle with chronic respiratory and blood clotting diseases and spent most, if not all, of his money on medical care as his job as a substitute teacher provided him no health insurance.  Tragically, the Senator's son was gunned down in a school shooting last week by a man with an assault rifle using an extended clip.
"It's really amazing," Senator Starboard told Barbara Walters, "I mean, the recap you guys did at the start of the show made me realize there's at least two or three other legislative areas I have to change my mind on when I get back to the office.  It's really just been a very hard time."
In the end, however, the Senator was able to take some small solace in the sad revelations about his formerly unknown son.
"All I can say is, 'thank goodness he was a boy!'" the Senator concluded with a shiver, "I don't even want to think about how many positions I'd have to change if it turned out I was closely related to a woman."