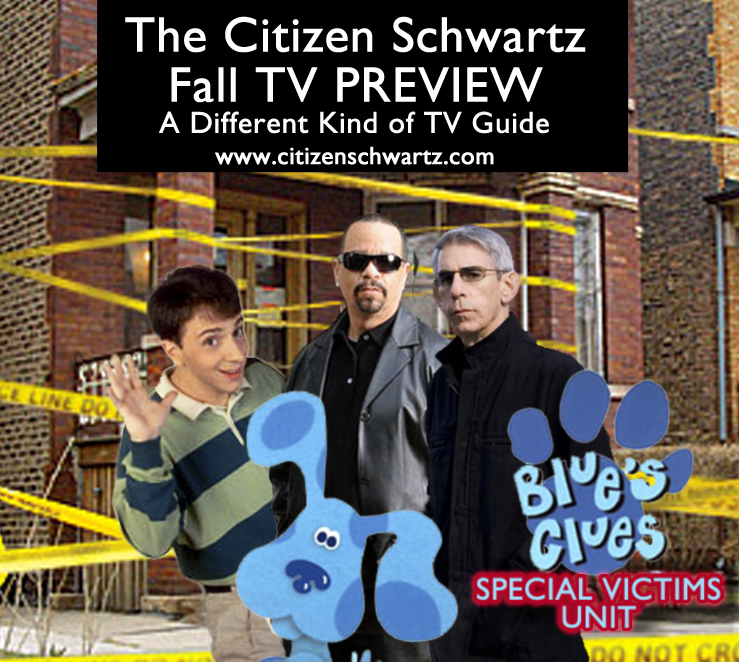 The Citizen Schwartz entertainment division has been hard at work previewing the big fall schedule.  Here's a short list of "can't miss" television coming up this week.
BLUES CLUES: SVU (NICK – Mon. 6/5c) Cute Animated Dog "Blue" helps his owner and the Law and Order Special Victims Unit (Richard Belzer, Ice-T) solve violent sex crimes by pointing out clues with his famous blue paw prints.  "What's that boy?  A semen stain?  That is a clue!"  Delightful, educational, gripping.
REVOLUTION (aka The Famished Contest): (NBC-Mon 10/9c) Clearly not an attempt to capitalize on the Hunger Games, this post-apocalyptic dystopian adventure stars a fatherless, attractive young woman who must save her sibling by fighting impossible odds armed only with bow-and-arrow, a tortured relationship with a very attractive young man, and a drunk lout of a guide who might just serve as a new father figure.  But it's nothing like those books or that movie.  The Hunger Games I mean.
NANCY GRACE:  (HLN – Tue 8/7C) : Nancy Grace achieves an On-Air sexual climax as she is told the details of a grisly double murder involving a fondu pot and a George Foreman Grill.
INTERVENTION: GOP: (A&E – Wed 10/9C) – On the season premiere of the hit reality show, Mitt Romney is confronted by a group of his friends who tell him he must stop acting like a caricature of himself (guests stars include: Donald Trump, Gordon Gecko, Auric Goldfinger, Thurston Howell III, Montgomery Burns, Scrooge McDuck, Richie Rich, and the Top Hat Wearing Guy from the Monopoly Game).
MY HUSBAND'S HUNGER: A Lifetime Original Movie (LFT – Thur 10/9C) – In a perfect town, in a perfect house, in her perfect life — he is the perfect husband.  Until, that is, she discovers that he likes to eat babies. Lots and lots of human babies.  Based on Not a True Story.  (Denise Richards, Alan Thicke)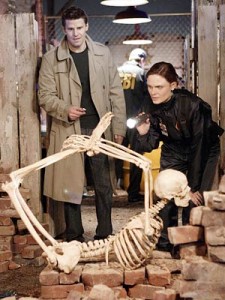 BONES – (FOX – Fri. 10/9c): On the heralded 311th episode of the series, D.C. police find yet another full human skeleton and charge Dr. Temperance "Bones" Brennan with 311 counts of murder when it finally occurs to them how unlikely it is that they keep finding full human skeletons necessitating the assistance of Dr. Temperance "Bones" Brennan whose only marketable skill is helping the police when they find full human skeletons.
PAULA DEEN: AFTER DARK:  (TFN – Fri 12pm)  The Crisco's still here but this Paula Deen show moves out of the kitchen … and into your deepest fantasies.  (Note: Accompanying Picture Removed by Editor)
The Best Bet of them All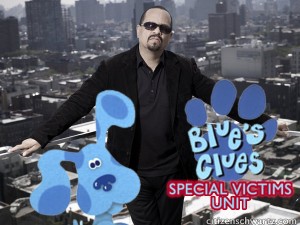 If you can't DVR anything else, Citizen Schwartz says "set that sucker to Nickelodeon."      Ice T simply cannot be missed.